Premium Power
This battery can be recharged up to 500 times. The reusability offers significant savings over non-rechargeable batteries. Very convenient usage and a drop-in replacement. Also saves our environment by preventing the waste of non-rechargeable Lithium CR123A batteries.
Certified for Safety and Power Efficiency
Battery: Extensively tested and certified by the most stringent battery safety standard: UL 1642, UL 2054, UN 38.3, IEC 62133, UL 60950, Battery Directive (2006/66/EC), CSTCG (PI965).
Charger: Certified for international CE and FCC safety standards. It has also been certified to California's CEC standard to ensure power efficiency. Charger Adapter with UL certification.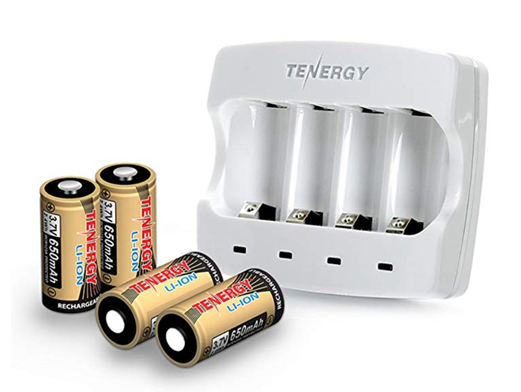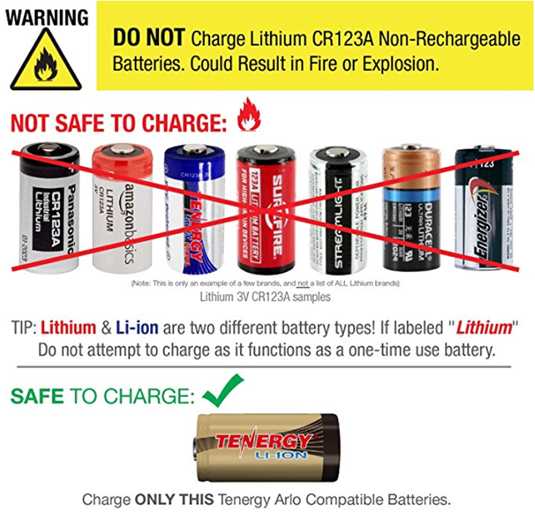 Lasts
Lasts for Centuries
With charging current of 400mA, your batteries can be fully charged in about 2-3 hours. Very convenient for battery charging and replacement.
**Charging current designed for optimized charging speed, charging efficiency and long-term cycle performance. This charging time ensures best charge into the battery and prolonged battery cycle life.
Other Technical Specifications:
Charger: Compatible with Tenergy 3.7V 650mAh RCR123A Li-ion Rechargeable Battery only. Do not charge any other type of battery.
Input: 100-240V AC 50/60Hz
Output: 4.2V DC, 400mA x 4 (1600mA Max)
Dimensions: 3.6 x 3.1 x 1 inch
Centura Rechargeable Batteries and Chargers